As simple as we've made buying a men's wedding ring, there just isn't a one-size-fits-all solution to sizing and determining how a men's wedding ring should fit.  Watch the above video too see what the perfect fit is and isn't. 
Men's fingers come in not just a huge range of sizes, but also shapes.  This is why we stock dozens and dozens of sizes and go above and beyond with our sizing process, customer service, and expert advice to make sure your wedding ring fits perfectly.
So how should a men's wedding ring fit? In a nutshell, there's a happy middle ground where the ring is both tight enough that it cannot fall off in cold weather or swimming, but won't feel tight in the warmer months. Most important is that it feels so comfortable you'll never take it off and forget it's there.
This all sounds obvious, but if you have never worn a ring before, then it can be hard to determine where this happy middle ground is, so read on for advice that we've gained from years in the business.
If you are questioning "how should a ring fit a man", here are some key points to consider:
Big knuckle, skinny finger? – If you notice that your knuckle is quite a bit bigger than the base of your finger then you may need a ring which takes more force than normal to get over the knuckle so that the ring isn't too loose once in position at the base of the finger.
Small knuckle big finger? – If the base of your finger is larger than your knuckle, then you will need to opt for a fit that is much firmer around the base of the finger.
Fingers are funny things and will change size significantly based on; temperature, time of day, exercise, and so on. So try the ring on at different times to make sure it's not too tight during exercise, or too loose in cold weather.
If you think your ring might be too tight
Restrictive – You don't want your skin to bulging out either side, once the ring is in position. Additionally if you make a tight fist, it shouldn't feel like it is restricting you finger.
Firm over the knuckle – It should take some force to push it over the knuckle, but you should still be able to spin the ring around the the base of your finger. This does not mean spin freely – that is too loose.
Removal test – Especially when you've never had to remove a ring before there can actually be a little bit of 'wiggle'-technique. There definitely should be reasonable resistance taking the ring off and may take a good pull and a wiggle. That's normal, however you shouldn't need to apply soap  or oil to your finger or go to any peculiar measure to remove the ring.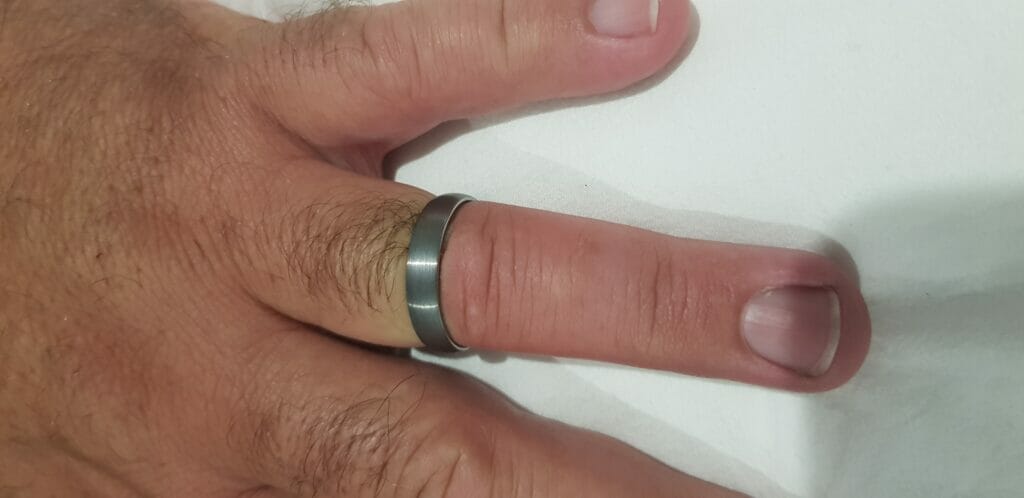 If you think your ring might be to loose
Shake test – If you shake your hand with fingers pointed to the ground, the ring should not come off. It may move slightly towards your knuckle but the knuckle should 'stop' the ring from flicking off.
Knuckle friction – The ring should need a firm push to get it over the knuckle. If it can simply slip back and forth over the knuckle without much friction or requiring almost no force then it is probably too loose.
Fist test – Make a tight fist and feel if the ring is comfortable. If it's too big then you will feel it push uncomfortably into the sides of your adjacent fingers.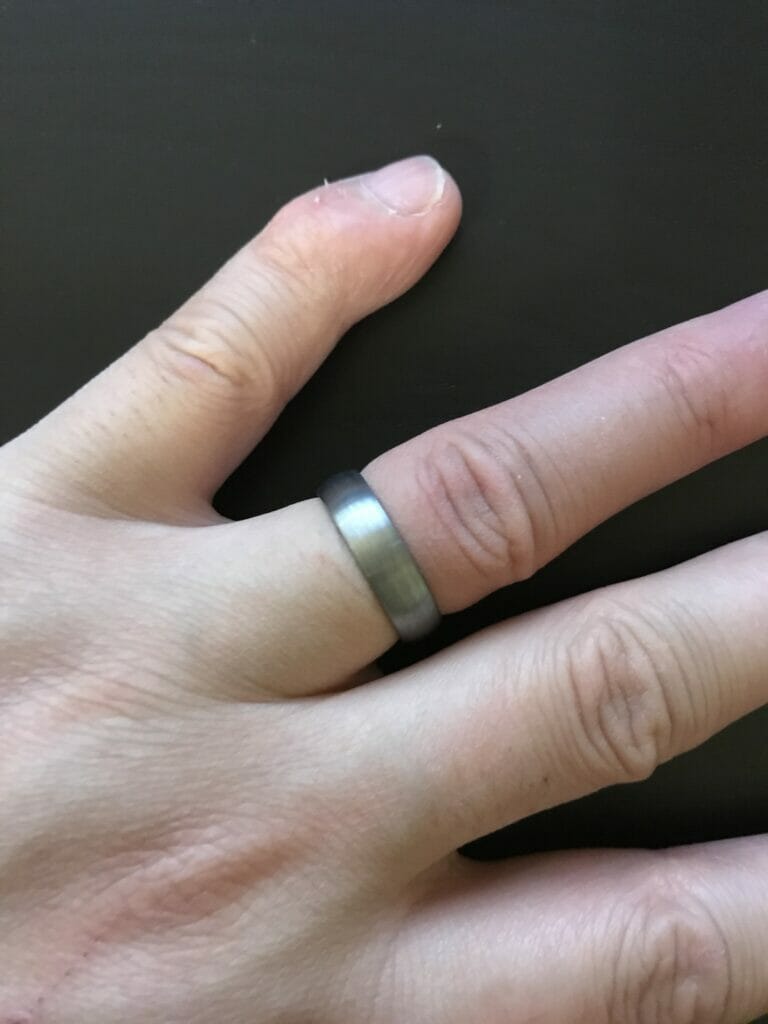 So, how should a men's wedding band fit again?
In short, you want it to be tight enough that getting the ring off takes you a few seconds, but loose enough that you don't notice you're wearing the ring in warm weather.
Some guys will find their knuckles are bigger than whatever the straight part of your finger is called… Unfortunately, if you're part of this group then your best bet is to focus on a slightly tighter fit on your knuckle so that the ring doesn't move around much on the straight bit. 
Our promise
We go to significant lengths and care to make sure we perfectly size our awesome ring to your unique finger.
We have incredible customer support with expert advice to make sure you're not left wondering if your wedding ring fits.
We also have a comprehensive re-sizing process so that if you're not satisfied with the fit, we'll make sure we get another to you that is spot on for your finger shape and size.
On top of all this, we also have an incredible lifetime guarantee that should you ever need a new size because it just isn't quite right from the start, or your finger changes sizes over the years, we will swap it for a better size for free – we just ask that'd you cover postage costs. Yep – that's a good guarantee, right?
If you are unsure about how a men's wedding ring should fit, whether you're a previous customer or not, please contact us here. We usually get you to send a few photos in of the fit and describe how it fits to help us determine which size would fit you better.
Trying to figure out how you can size your finger first. Head over here.
Our customers rave about how easy our resizing process is, check out our glowing customer reviews here.